<< Back to Calendar
ONLINE ONLY - PMI MARCH 2023 LUNCHEON PRESENTATION
PMI – MARCH 2023 LUNCHEON PRESENTATION 
Registration Last Date: March 12, 2023

Date: Tuesday, March 14, 2023
Time:  11:55 a.m. - 1:05 p.m.

Where: Microsoft Teams 
Agenda 
11:55 – Announcements and Introductions
12:00-12:55 – Presentation
12:55-1:05 – Comments and Q&A

Presentation Topic: The Power of Collective Intelligence and How to Unlock Its Transformation 


PMI Talent Triangle:  1.0 PDU - Power Skills and Business Acumen (For more info, visit PMI.org)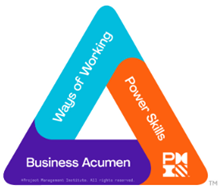 Speaker: Christine Aykac, Project Coach / Learning Strategist

Speaker Biography:  Christine is a dynamic, engaging problem solver and change agent. With over 20 years of experience managing programs and providing assistance in utilizing technologies and knowledge assets, she is able to use the best suitable solution to ensure her team's success. Christine has been involved with organizations such as PMI, PeopleCert (AXELOS) and DASA, among others. She currently leads a global program that is focused on developing sustainable learning solutions for organizations. Christine has strong interpersonal skills with an ability to create trust quickly with people from diverse backgrounds. Her objective is to spark positive change in the business world through thought-provoking dialogue and interaction through her training materials, books, blogs and speaking engagements. She can adapt easily across cultures while building long-lasting relationships that are based on mutual respect. Her energy level is high, yet she also knows how to have fun! Christine is very involved in developing training materials, customized awareness programs and workshops on project management, agile and DevOps, risk management and collaboration and collective intelligence.
Presentation Overview: Transformation is a hot topic these days — we are all looking for ways to change and improve. But what are the key components? How do you foster and encourage transformation in your teams and organizations? Transformation is a more holistic process that results in lasting change. This is where collective intelligence comes in. By including a diverse range of participation, we can bring all team members to a collective wisdom state to create real transformation.

Presentation Learning Objective: At the conclusion of this session, attendees will be able to:
Discuss the concept of collective intelligence and its importance for organizations.
Identify the five key elements that enable collective intelligence and empower teams.
Click here to register